Last summer, on a day when he had the strength to make a trip, Rob Wright visited his home away from home.
He'd lost weight during cancer treatments and was unusually emotional because of the medication's side effects. But he had to see the progress on the still under-construction Nelson Tennis Club, the place he dreamed into a reality.
And then, even though he was ill, Wright picked up a brush and went to work painting a backboard. He couldn't help himself — pitching in was his nature.
That was no surprise to Keith Bridger. The president of the tennis club had become close with Wright as they worked together on-site, and knew how driven he was to contribute even when his body began to fail.
"It was just that kind of tremendous energy on the site that really made it the best of times," said Bridger.
Wright, a Nelson native who spent decades volunteering for the city's hockey teams and tennis club, died of cancer on Feb. 6. He was 62.
Although he became inextricably linked with the tennis club in recent years, Wright was previously known for his commitment to the city's hockey community.
Wright played for the junior and senior Nelson Maple Leafs in the 1970s and 80s. At one of those games he met his future wife Tammy Mierau, who he would marry in 1981 and have two children with, Brady and Rochelle.
Current Leafs coach Mario DiBella played with Wright during the 1980s. He remembers Wright as an energy player and positive influence on the team.
"He always made people feel better about who they were. …," said DiBella. "He wasn't large in stature but his work ethic was second to none. He worked real hard, he loved the game, he just was a good teammate."
But it was on the bench where Wright excelled.
He took over the Leafs as head coach in 1991 and won two consecutive KIJHL championships before leaving the team ahead of the 1993-94 season. He returned as coach again in 1998, and again led the Leafs to a league title during the 1999-2000 season.
Wright mellowed in his later years, but he was a competitor at the rink.
Ben Williamson played for Wright during the 1999-2000 season. He remembers Wright catching wind of the players partying during the Christmas break. At practice the next day, Wright put the team through a bag skate and warned them against losing again during the season. They did lose, but only once through the next 19 games.
After he left the Leafs, Wright stayed involved in hockey. He coached minor and adult teams that included both of his children and even Tammy at one point, as well as at Trafalgar Middle School's hockey academy.
Tammy laughs when asked what it was like being coached by her husband. "Losing was not part of his vocabulary," she said.
Wright was also beloved by the Nelson Blueliners women's team.
In the final days of Wright's life, former Blueliner Deb Morris put a call-out to her former teammates. Every player she reached out to arrived within a day at Kootenay Lake Hospital to see their old coach. "It just tells you how much he meant to us," she said.
But Wright was so much more than just a hockey coach.
At his home, nicknamed Wright Ranch where Brady and Rochelle still live with their own families, Wright raised horses and developed an interest in making metal art, which he collaborated on with Tammy.
When the Nelson Star profiled Wright in 2019, he was selling his art, playful depictions of animals and people made from items like pots and shovels, to raise money to bring a mother and girl he and Tammy had befriended in Belize to Canada.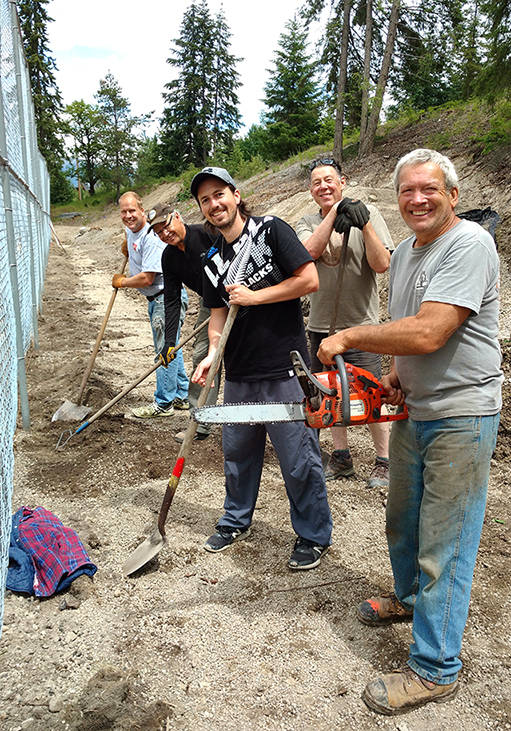 In 2016, Wright was playing tennis when Bridger noticed how much he enjoyed being at the club, which was at the time located at Granite Pointe Golf Course. Bridger approached Wright about taking on a more active role with the club.
"You're kind of used to people ooh'ing and aah'ing when you ask for volunteer contribution, but without hesitation he said, 'I would love to!'" said Bridger.
Shortly after, Wright made his own pitch to Bridger.
The courts at the golf course were starting to show their age, and Granite Pointe wasn't interested in a long-term lease agreement. But above L.V. Rogers, Wright said, were four dilapidated courts that required extensive renovations but could offer the club a new home.
In January 2018, the club made its proposal to School District 8. It would build a multi-sport complex on the district-owned land using a combination of member fundraising, grants and assistance from SD8.
Typically, a community project the scale of Wright's dream might take years to fulfill. But the district board was impressed, and quickly gave its blessing to the project. Columbia Basin Trust also bought in with a grant, and local companies such as Selkirk Paving pitched in with free labour as well.
With the money and land secured, club volunteers got to work. Wright and Bridger were involved in the construction every day, which Tammy says became her husband's passion.
"It was extremely important to him that it went the way he wanted it to go. …," she said. "He loved being there, he loved the people, the interaction with the volunteers, with the people who donated, he just loved everything about it. That was Rob. That's what gave him life."
Bridger and Wright meanwhile became inseparable. Bridger, a doctor, said he learned how to build from Wright, who in turn kept volunteers motivated through months of hard work.
Bridger recalled one day when the pair spotted some skateboarders at the site. Wright went chasing after them, not to berate them for trespassing but to ask for suggestions.
"He just drives it forward and leads by example, and I think that inspires other people to be their best," said Bridger. "I think that's his greatest skill. He would create a wave of positive energy that just pushes everyone forward."
The club held its grand opening in September 2018, during which Wright struggled to keep his composure as his work was singled out in front of a crowd by Bridger.
Even though tennis can be played, construction on the court site remains ongoing. The clubhouse is still being finished, more paving is required and floodlights need to be installed.
If he were alive, Wright would have seen his dream to completion. Then he would have found a new project to work on, a new kid to coach, a new community to volunteer his finite hours to.
Pitching in, to the end, was his nature.
@tyler_harper | tyler.harper@nelsonstar.com
Like us on Facebook and follow us on Twitter.
Want to support local journalism during the pandemic? Make a donation here.