Carolee Colter and Paul Prappas are intensely concentrated, listening and watching, despite the cold early morning wind on Dec. 31 at the Nelson waterfront.
"Wait, there are some common mergansers out there."
Both birders stopped talking, raised their binoculars, then made a note of the sighting.
The couple were counting all the birds they encountered in a walk along the waterfront from the bridge to Cottonwood Creek as part of this year's Christmas Bird Count, an event that happens all over North America at the end of each year.
All the data from all the counts is collected and becomes part of the longest study of bird populations on the continent – it's been going on for more than a century.
Colter and Prappas were one of several birder contingents assigned to different geographical areas around Nelson.
The Christmas Bird Count was introduced to combat a cultural habit of the nineteenth century — a Christmas bird shoot in which the hunters who bagged the most birds got prizes.
"The bird count was introduced as a way to appreciate birds and love them," Prappas said, before pausing for a few seconds to excitedly photograph a group of swans flying high over Kootenay Lake.
It's becoming more important to love birds, Colter said, as their numbers are steeply declining because of a mix of habitat destruction, pesticides, large glass buildings, and predation by house cats.
In the West Kootenay, Prappas says, the problem is mostly habitat destruction through logging, fragmentation of forest canopies, and road building.
"We do not have a lot of diverse habitat in southern B.C., particularly in the Kootenays. In a lot of mountainous areas there are not many wetlands."
Having few wetlands means that destroying even a small one can have large effects.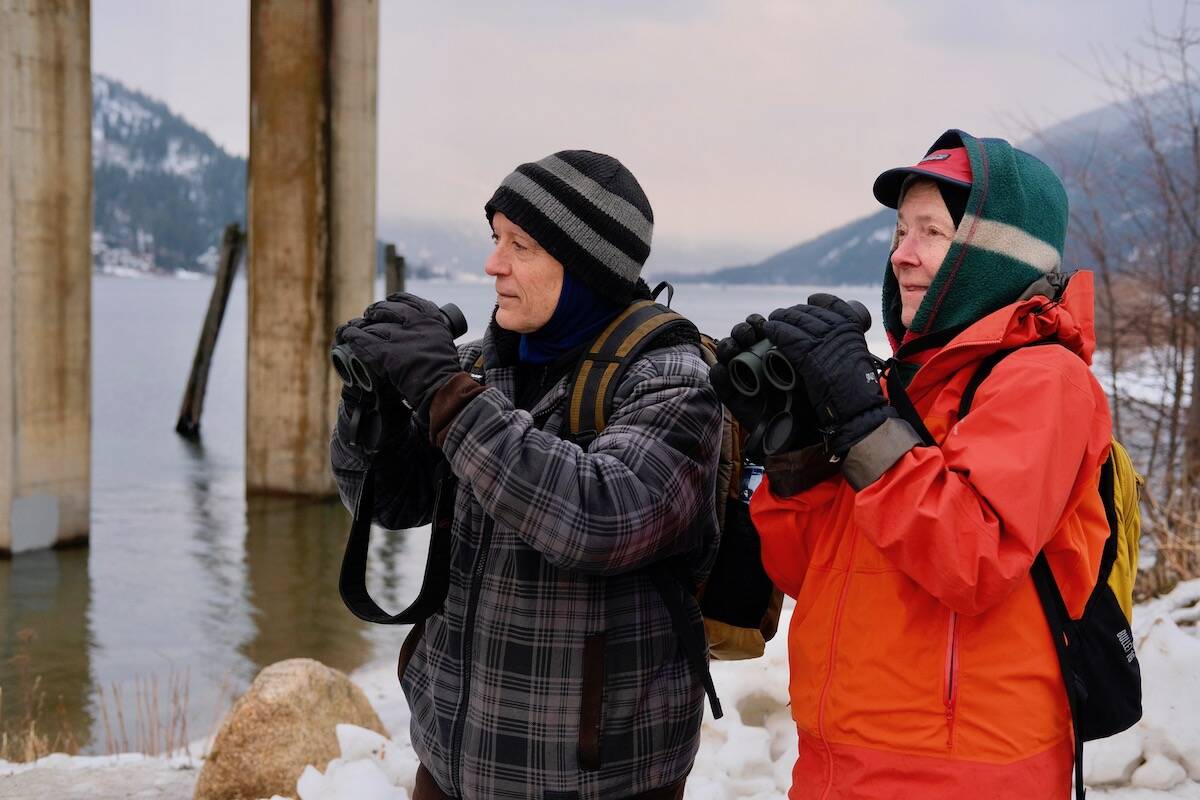 Colter was introduced to birding while on a whale watching trip in Baja California in 1984.
"I saw magnificent frigate birds chasing blue footed boobies and making them drop their fish. It was such an amazing sight and I thought, 'People go around trying to see all these different birds, well, I am going to start doing that too.'"
She started and has never stopped.
"It feeds my soul. And it seems like I am contributing something."
Colter introduced Prappas to birding in 2003.
"She expressed her interest in birding when we met and I was an avid hiker and camper so it seemed a good fit for us," Prappas said. "It's easy for couples to drift off into differing interests, and Carolee and I do have varying interests, but birding has been an activity that we build our life around. Every year, we plan trips that are bird/butterfly focused."
Most of their birding has been done in Canada, but lately they have been going farther afield, recently to Costa Rica and Panama, and later this year to Cuba.
In 2022 in Canada, the U.S. and Panama, the couple logged 560 species.
They identified 21 species on their 2.5-hour Nelson waterfront walk, mostly waterfowl.
"Perching birds were nearly non-existent," Prappas said. "Only one black-capped chickadee and a few song sparrows. Not a particularly impressive outing as compared to past outings.
"If there were any highlights, it would be the four trumpeter swans we saw when you were with us, an adult bald eagle, and an American dipper along Cottonwood Creek."