Can one band play nine concerts in nine different cities within 12 hours?
One B.C. band will soon find out.
Acoustic-pop duo LooPS will attempt to break the Guinness World Record for most concerts played in 12 hours in multiple cities, all while raising money for BC Children's Hospital on July 8.
And the Kamloops-based band will need the public to help them break the current record.
"The most concerts performed in 12 hours (multiple cities) is eight and was achieved by Minhee Jones (UK), on Dec. 7, 2019," the Guinness World Records website states.
According to Guinness, in order for each show to be official, it must be in a different city, last for a minimum of 15 minutes, have at least 10 ticket-holding people in the audience, with each stop separated by a minimum of 50 kilometres.
LooPS is made up of Kevin Roy and Jon Fennell.
Since all of their stops are within the Lower Mainland, and since the venues need to be at least 50 kilometres apart, it means the duo will actually be driving past some of the venues to play at a further away location and then backtracking several times.
LooPS will start the tour in Squamish, then head south to Downtown Vancouver, east to Abbotsford, west to Burnaby, east to Chilliwack, west to Richmond, east to Mission, west to Delta and then east to Langley. (See list of venues at end of story.)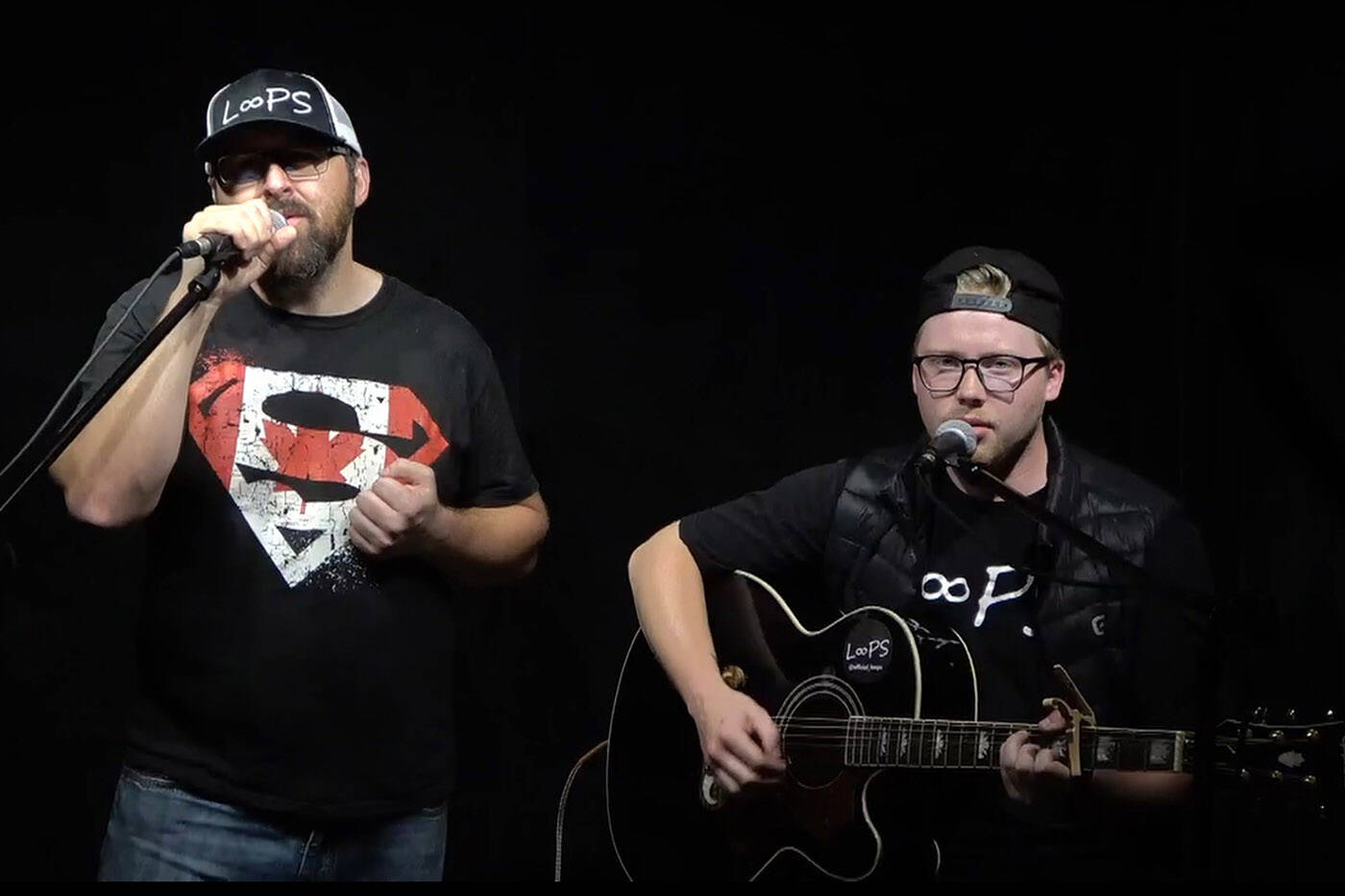 Tickets are available by-donation at each of the venues from now up until the day of the tour. One hundred per cent of revenues are going to the charity.
Paediatric hospitals hold a special place in lead singer Kevin Roy's heart.
"When we had the idea of trying to break this Guinness World Record, we wanted it to mean something," Roy said. "My younger brother was hospitalized much of his life until he passed away at six years old and my nieces are both teenagers with cystic fibrosis. Through this lens, both myself and Jon have seen the incredible work done by the BC Children's Hospital and thought this was a great way for us to give back to them."
"Being involved in setting a Guinness World Record is something that most people never experience," said multi-instrumentalist Jon Fennell. "We're excited to invite people all across the Lower Mainland to come out and be part of this attempt by checking our itinerary — with so many stops, there'll be a concert nearby on July 8."
LooPS will be printing off 10 special 'Guinness' tickets for each of the nine locations to hand out.
"We hope for much more than 10 people at each stop, but because we require a minimum of 10 tickets sold what we have done is we are making 10 'Guinness World Record attempt' tickets for each location for each spot to give out to 10 of the donors who attend. These will be our official 10 tickets for the purposes of submitting our evidence later," Roy said.
There will also be two witnesses at all times, in four-hour shifts, covering the 12 hours.
All of the locations will be collecting money in-person between now and the day of the attempt. If people wish to donate directly to BC Children's Hospital to get a tax receipt between now and July 8, they can do so via the LooPS fundraiser page at secure.bcchf.ca/SuperheroPages/main.cfm?Event=ICE&Member=255320.
Anyone who wants to be part of the record attempt can stop by one of the venues and can donate to BC Children's Hospital Foundation at each show location during or before the attempt, or online.
Here is the LooPS Guinness World Record July 8 schedule:
1. 10 a.m. Squamish, Coastal Ford
2. 11:20 a.m. Downtown Vancouver, The Blarney Stone (eta 11 a.m. to 12 p.m.)
3. 12:45 p.m. Abbotsford, MSA Ford (eta 12:15 p.m. to 1:30 p.m.)
4. 2 p.m. Burnaby, Coastal Ford (eta 1:30 p.m. to 2:45 p.m.)
5. 3:20 p.m. Chilliwack, Duke's Country Pub (eta 2:45 p.m. to 4 p.m.)
6. 4:45 p.m. Richmond, Long & McQuade Musical Instruments (eta 4 p.m. to 5:30 p.m.)
7. 6 p.m. Mission, Corona's Mexican Restaurant (eta 5:30 p.m. to 6:45 p.m.)
8. 7:20 p.m. Delta, The Riverhouse Restaurant & Pub (eta 6:45 p.m. to 8 p.m.)
9. 8:35 p.m. Langley, Poseidon Restaurant and Bar (eta 8 p.m. to 9:45 p.m.)
(Schedule is subject to change.)
For more, go to officialloops.com.
---
Do you have something else we should report on?
Email: jenna.hauck@theprogress.com
Twitter: @PhotoJennalism